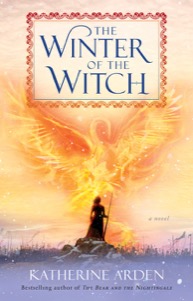 I absolutely loved The Bear and the Nightingale and The Girl in the Tower so as soon as The Winter of the Witch came out, it jumped immediately to the top of my list to read.
Katherine Arden is one heck of a storyteller and this was a wonderful conclusion to a fantastic trilogy.
Book three picks up moments after the conclusion of the second book and takes off at a tremendous pace that doesn't really ever let up.
Vasya continues to be one of my favorite characters of fiction in the last several years. Here we see her finally coming into her own. She's slowly become more confident and powerful over the course of the series, and here, finally, is the big payoff. As much as she has gone through in the previous two books, it feels like nothing compared to the events of this finale. She's beaten by a mob, locked in a cage to be burned, beaten again (a few times)—and all of that is in the first third or so of the book.
But all of that terrible chaos is what helps her to finally really accept who she is and what she's capable of without apology. Her family, for their part, comes to terms with it at last as well.
While Vasya is the center of the story, there's a rich cast of supporting characters. Sasha, Olga, Medved, Dmitrii, Konstantin, Morozko—they're all back along with plenty of new faces mixed in. Few, if any, of them could be said to be shallow or one-dimensional. Even the villians are complex, well-rounded characters that are conflicted in their own ways.
Much of this entire series, really, is devoted to that: characters who are conflicted about who they are and the role they're meant to play. Vasya, of course. But also Sasha, torn between his life as a monk and his love for his sister, a witch. Olga, torn between that same love for Vasya and her position of status. Konstantin, torn between the pioutous priest he presents to the public and his cravings for power that truly rule his actions. That internal conflict drives them all. It's how they react to it that differentiates them most significantly.
Throughout the series, Arden does such a masterful job of weaving authentic historical events and contexts alongside the more fantastical elements. The epic conclusion (epic is fitting here) takes place at the very real Battle of Kulikovo, a fitting setting that she had planned to use for the ending from the very beginning. Arden's beautiful writing and knowledge of medieval Russia creates a rich backdrop, and also helps to ground what is a very fantastical story.
The ending is not entirely happy, which in this case is good. A perfectly happy ending would have felt misplaced. Instead the end is bittersweet, and very satisfying.
While the trilogy has come to an end, I would be more than happy to read more of these characters, or, at least, stories with the same rich, mythological setting. Whatever Arden writes next, I'll be reading it as soon as it comes out.